Smart ED Workshop Repair Manual Download
Smart ED
Workshop Repair Service Manual

Compatible with All PC Operating Systems
Windows 10, 8.1, 8, 7, Vista, XP - 32bit and 64bit

Smart Fortwo Electric Drive
Workshop Repair Manual Download
Covers All Smart ED
2007 to 2019

Just £9.95
Euro USD exchange rate Click Here




Instant Download!
The same workshop repair manual used by Smart Car and Mercedes main dealers
Models Covered:
Smart Fortwo Electric Drive
Smart ED
Smart ED1 - 1st Generation
Smart ED2 - 2nd Generation
Smart ED3 - 3rd Generation
Smart ED C453 - 4th Generation
Comprehensive step-by-step procedures and explanations.
All wiring diagrams covered.
Detailed illustrations and photos covering every apect of the vehicle.
Parts catalogue included covering all parts of the Smart ED vehicle.
VIN search facility to pin point your exact vehicle.
It is an excellent manual covering all aspects of repair, service, parts, wiring etc.
Supported languages:
English & German
Suitable for Professional & D.I.Y Service, Repair, Diagnosis, Wiring etc.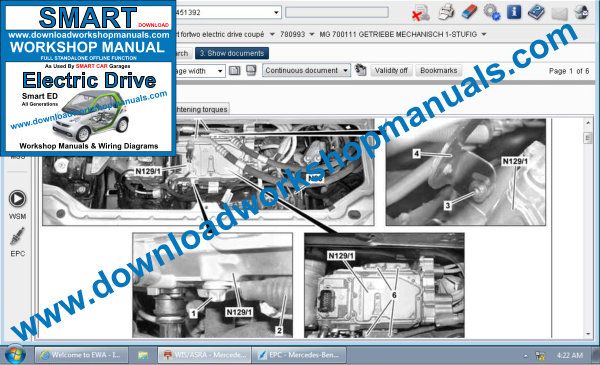 Smart ED Workshop Repair Service Manual